The shrinking population of Japan
Why is Japan`s population shrinking?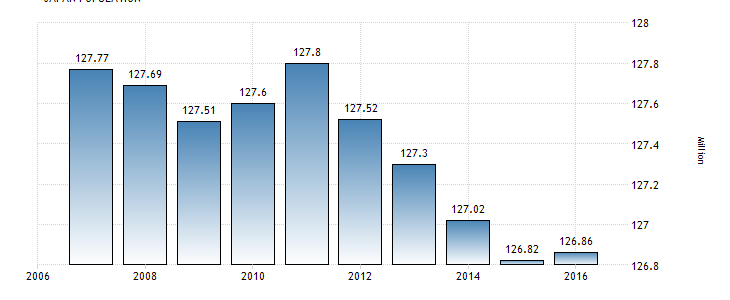 You may have wondered why there are so many senior citizens in Japan.  Why is Japan`s population shrinking?  Quick answer: aging population and low birth rates
You may have heard of this problem.
Birth rate in Japan is low, far below the 2.07 kids/female where the population is said to be net flat. It is currently at 1.45 (2005), though politicians proudly say that it has bottomed a few years back.  Sure, but from a very low base.  1947, it was over 4.  As a result, population has continued to shrink since 2005.  Why?
Marriage rate has been falling.
People are marrying later in their lives, leading to lower chance of having children.
As more women work, social infrastructure (nursery, baby sitters, etc.) is still not enough to encourage working moms to have more kids. The waiting period to get into a nursery is still long.
As life expectancy becomes longer, burden of looking after ailing parents usually fall on the middle aged daughters, making it difficult to have more kids.
As family size becomes smaller and people move to city centers, nuclear family does not have the same support base as that of bigger families.
The list is endless…
Graph below shows the magnitude of the problem.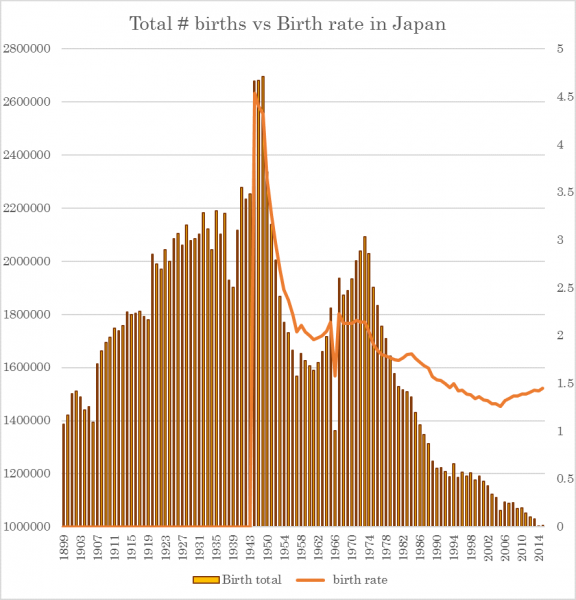 Source: Ministry of Health, Labor and Welfare
The current birth rate of about 1.45  is below the 2.09, needed to keep the population constant.
Aging fast : Population pyramid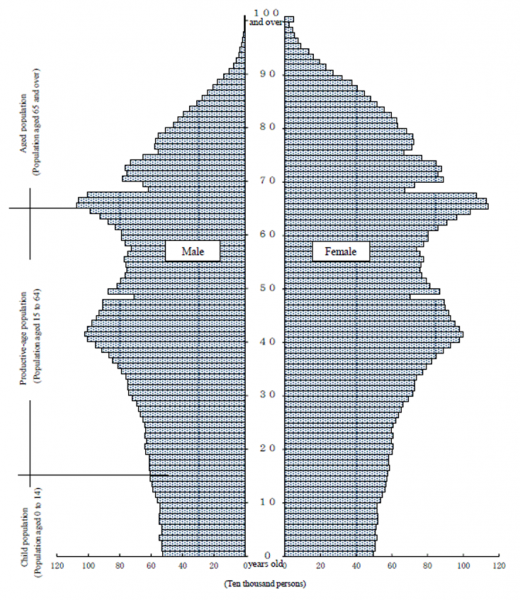 There are two so-called baby boomer generation; First wave those born around  1947-1949 (68-70 years old) and those born in 1971-1974, now aged 43-46). there is a worryingly small portion of younger population left.  This will further lead to the silvering or aging of Japan.
Source:Statistics Bureau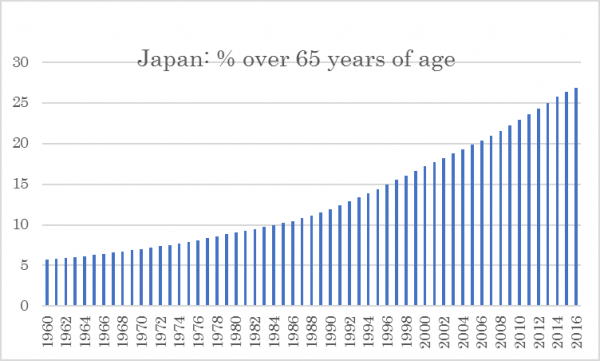 Source: The World Bank
Japan ranks #1 in life expectancy, globally, according to WHO 2015 data.  (male 80.5 and female 86.8)
Below, you can see how the population pyramid has changed its shape over the years.  Very interesting as well as very depressing…   You can also see the pyramid for your country as well at this site.
http://www.worldlifeexpectancy.com/country-health-profile/japan
---
Read More Articles: Column
---
---
---
---
---
---
---
---
---
---