Sunamachi Shopping Street
Deep and old fashioned Shitamachi shopping and street food in Sunamachi Ginza

Come and enjoy the freshly made Japanese street food!  Feel the traditional nostalgia of old Tokyo.  This is your typical Shitamachi 下町(explained at the very end)
1 Sunamachi Ginza
2 Japan`s retail scene
2.1 Japanese local shopping vs increasing national chain stores
2.2 The few survivors of Japanese local shopping
2.3 Sunamachi Ginza
2.4 But why "Ginza"?
3 Recommendations from Sunamachi Ginza shopping street
3.1 Yakitori
3.2 Fruits and Vegetables
3.3 Homemade Japanese cooking
3.4 Clam shop
4 Lunch spot at Sunamachi Ginza shopping street
5 Other shops
6 Tibit- what is SHITAMACHI?
1 Sunamachi Ginza-typical local shopping street in Tokyo, the few survivors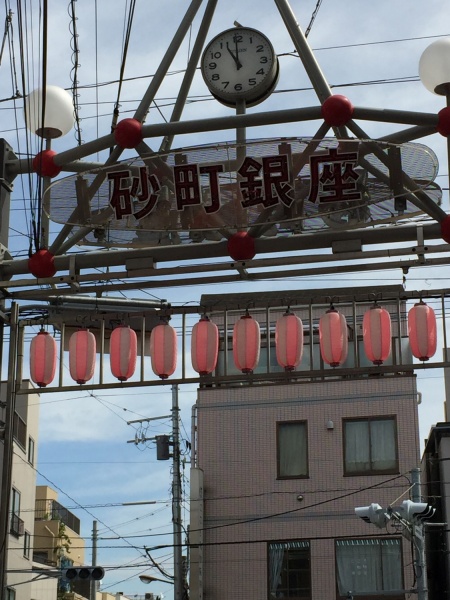 Very crowded, with mostly local shoppers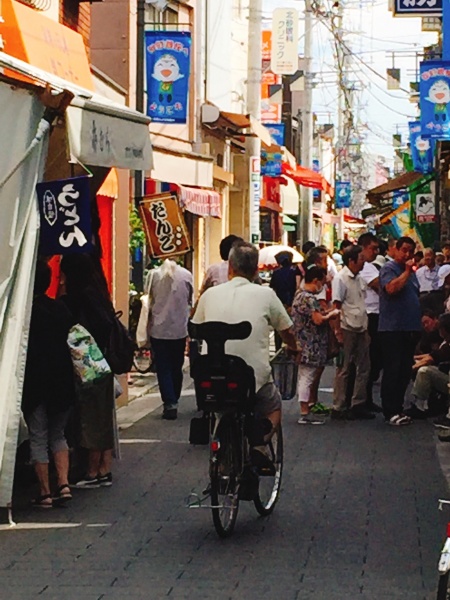 The price is very cheap, but the variety and quality of the food is good. It would be nice to have a translator, but even if you can not read Japanese, pointing fingers will do the trick!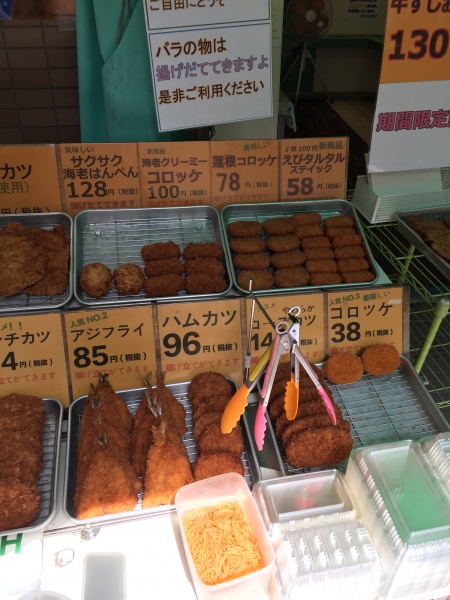 Official home page (only Japanese) http://sunagin.main.jp/
City of Tokyo`s official English guide
http://www.gotokyo.org/en/kanko/koto/spot/40912.html

TIBIT -Japanese everyday shopping:
2.1) Local shopping vs national chain stores
Before the national shopping supermarket chains started to increase around 2000, Tokyo had a lot of local shopping street (shotengai 商店街) with unique, small shops each specializing in different products, like vegetable and fruit, fish, dried goods, sweets, and so on. They formed the local main shopping street. However, just like in other countries, bigger national chains started to take over the local mom & pop stores, given their scale merit and efficiency, not to mention pricing power.
So, a lot of the local shopping street faced bankrupt stores, and led to the shut down (shutter street シャッター街).
2.2) The few survivors:
However, there are a few left in Tokyo, where the local shops are still very dynamic and vibrant! Local people and shoppers from afar come and shop, attracted by the unique features, great value-for-money, and amazing quality.
The most famous one is AMEYOKO in Ueno. (上野アメ横)It is always crowded but especially before New Year`s as people come to buy the fish/crab/other preparations for New Year`s feast.
Official site (Japanese only) http://www.ameyoko.net/
(more on Shitamachi at the end of this article)
2.3) SUNAMACHI GINZA SHOTENGAI is not conveniently located, as it is a 15 minutes walk from the station (Nishioshima on Toei Shinjuku line) or a 10 minutes bus ride from Kinshicho station on JR Sobu line. However, it is really deep Japan, typical traditional shopping street, that you will not find anywhere else.
Over 100 stores, each very unique. Try the freshly prepared Japanese street food like yakitori (skewered chicken), onigiri (rice balls), croquette (potato, meat, tuna, shrimp, etc. ), tempura, and so on. Why not buy and sample Japanese tea, sweets, rice crackers? There are other interesting shops selling second hand dishes, too.
2.4) Why GINZA is included in the name? a lot of the local shopping street add Ginza, as Ginza is the best `brand` for shopping area in Japan. Nothing more, nothing less.
ENJOY the atmosphere of the traditional Japanese shopping street. Sample Japanese street food. Why not spend an hour or so, visiting?
3 Recommendations for you, at Sunamachi Ginza
3.1) YAKITORI: Takezawa Shoten uses domestic chicken, cooks the skewered chicken right in front of your eyes. Choose the sweet soy sauce or salt. Y50-200 per skewer.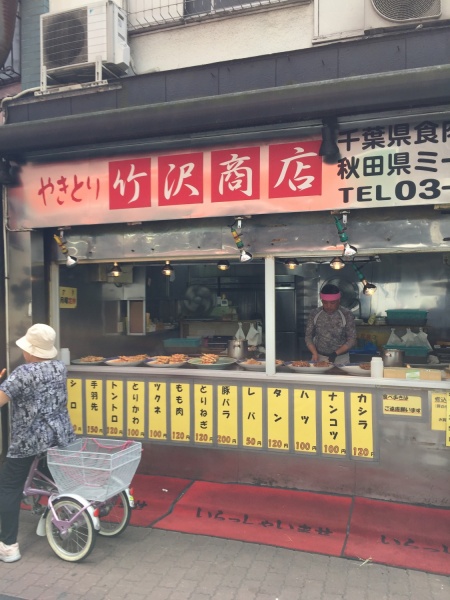 Here is what I bought. Chicken wings (salt), chicken and leek/negi, chicken meat ball/tsukune, liver (sweet soy sauce). Y789 total.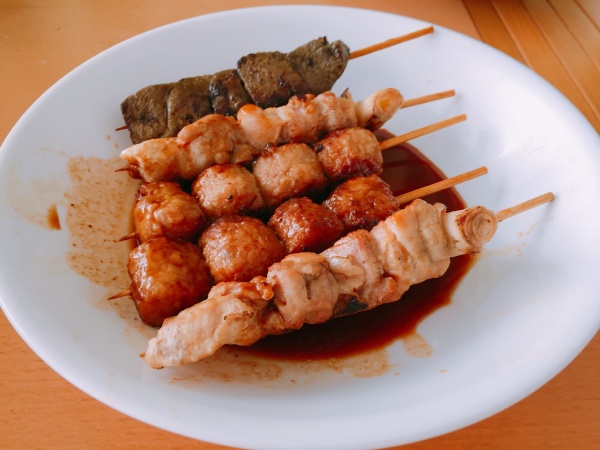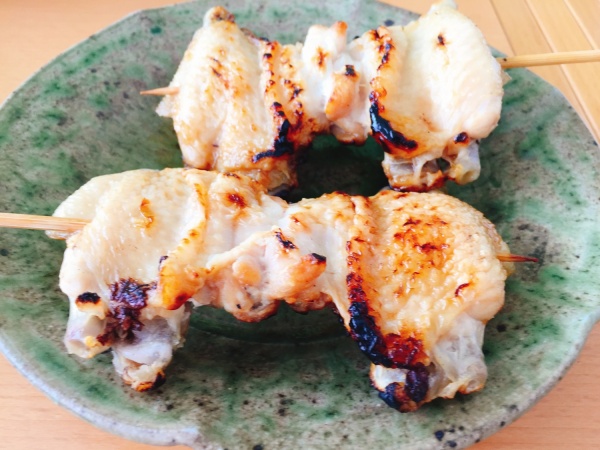 3.2) Fresh fruit and vegetables: Jiyushijo, very fresh and price was half that of central Tokyo`s. Very crowded.
I bought Ruby Grapefruit, 4 for Y300 yen!  And used it to make my favorite grapefruit jelly.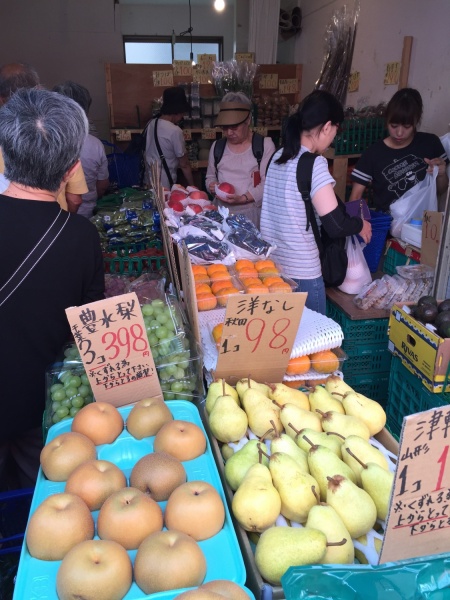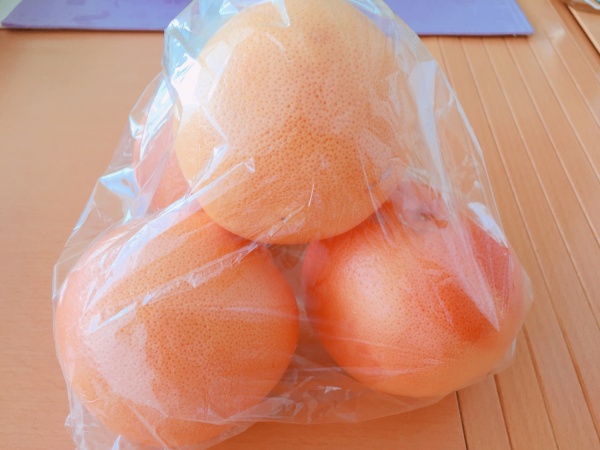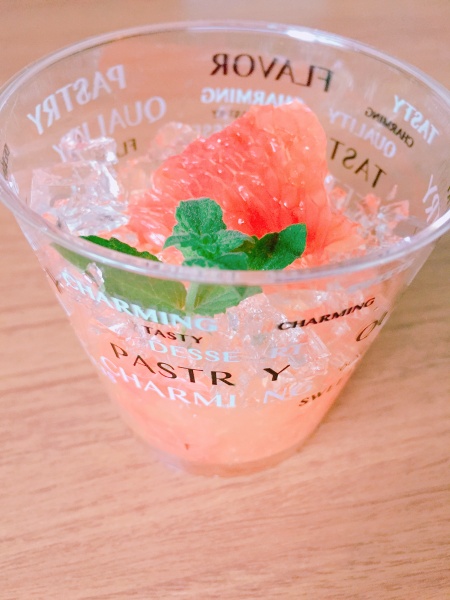 3.3) HOME MADE COOKING : SAKAI, famous freshly made shumai (Chinese meat dumplings) They make over 1000 per day.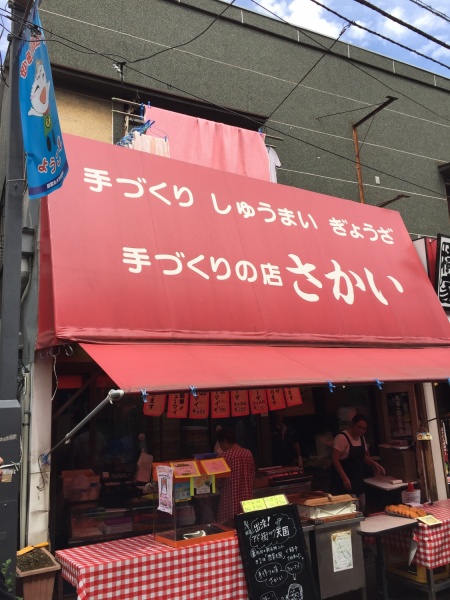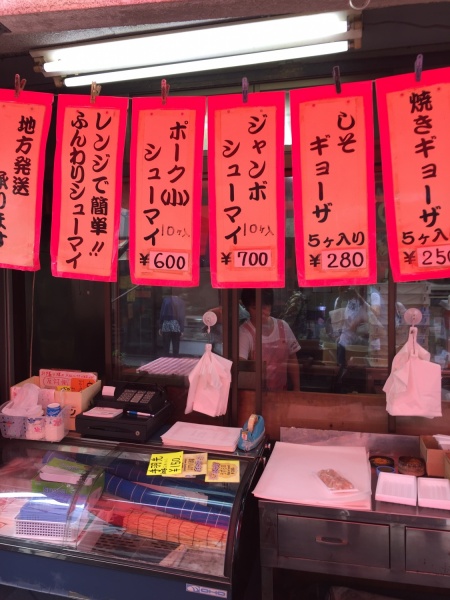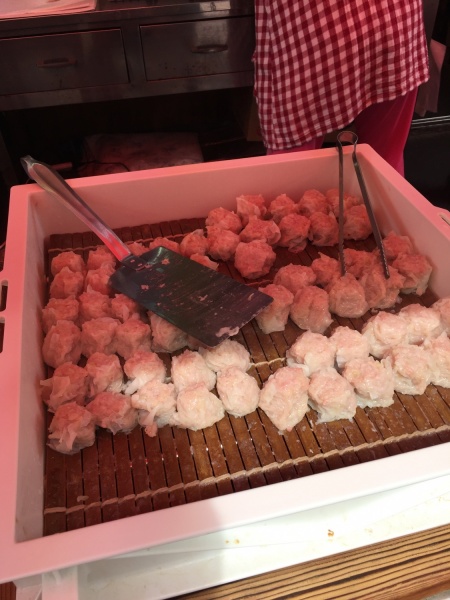 I bought the 10/set big size for Y700.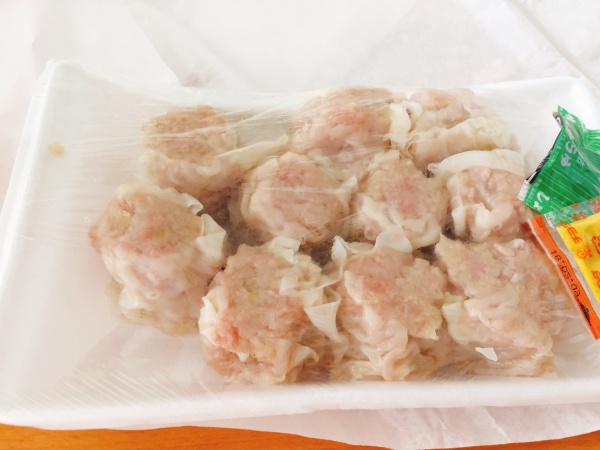 3.4) CLAM SHOP Asariya, selling prepared food using clams. Famous for rice cooked with delicious clams.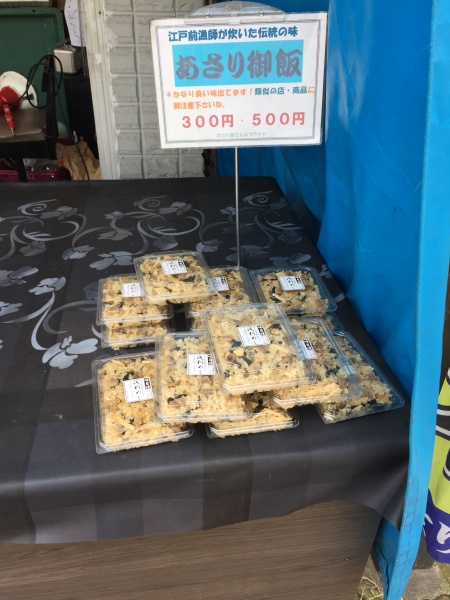 And that is what I bought. Clam rice. Y500 Large and Y300 small size.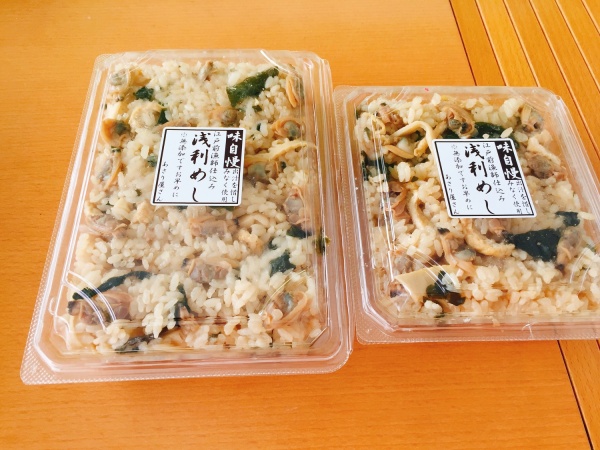 4 Lunch spot at Sunamachi Ginza shopping street for you!
SUSHI restaurant:  KAIKO 海幸
https://tabelog.com/en/tokyo/A1313/A131303/13003016/
Always-crowded fish market operates this Sushi restaurant, right in back of the store.   There is always a queue, so very easy to find.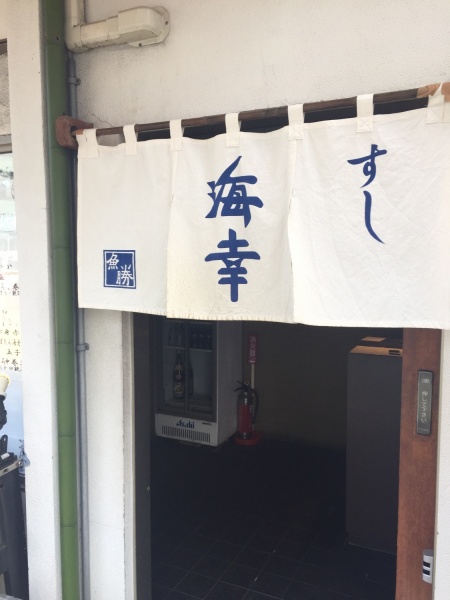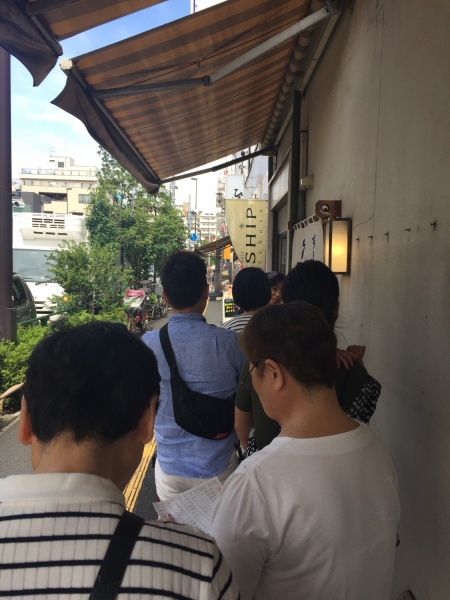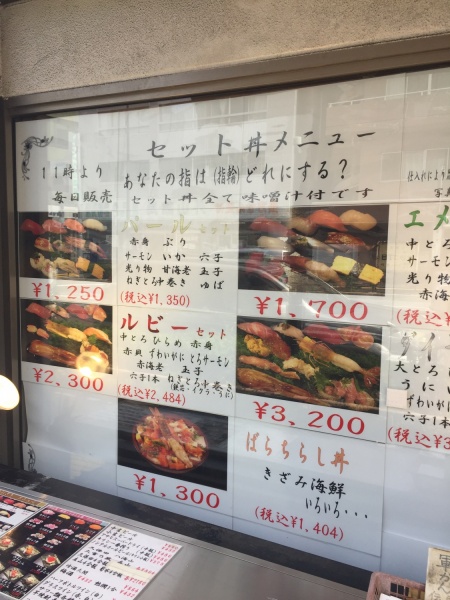 For lunch, they have specials prepared for 30 people, first come first serve base. I got the Chirashi (sashimi on rice bowl) for Y702. (with delicious miso soup with fish broth)
You can choose the other menu available, as well. Or one piece by one piece.
This was my ticket to get the lunch special for Y702.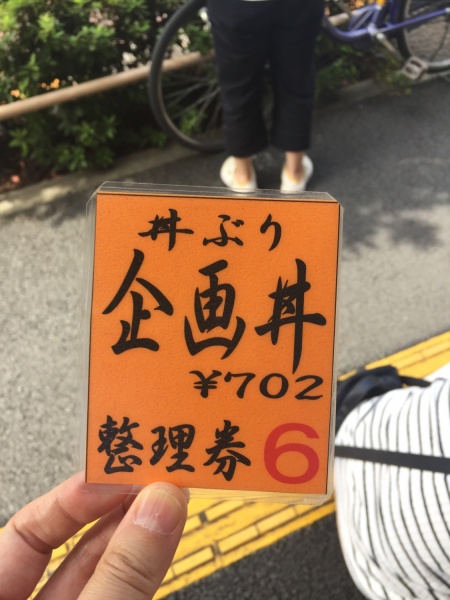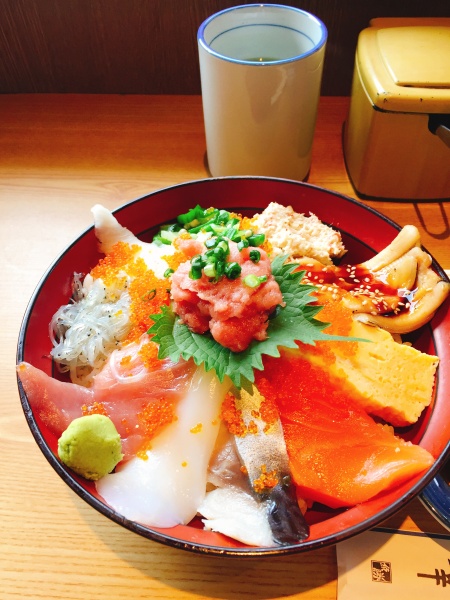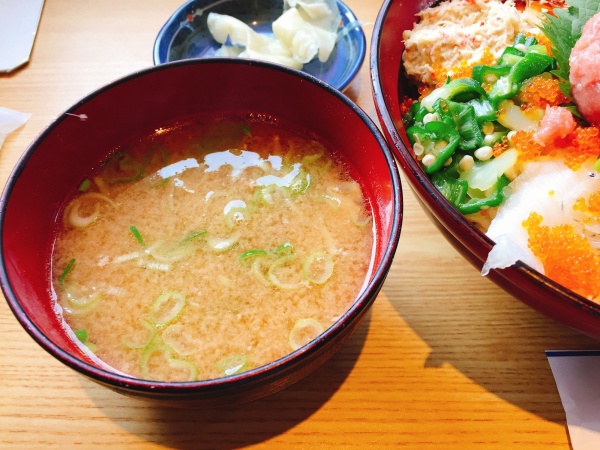 This is the fish market that operates the restaurant. It was too crowded!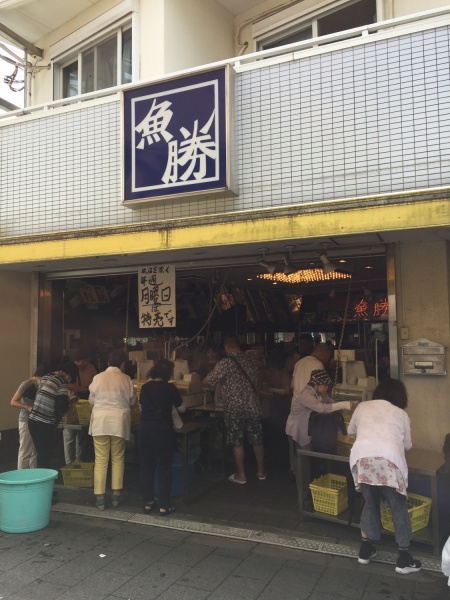 5 OTHER interesting shops:
Cushion for you and your cats.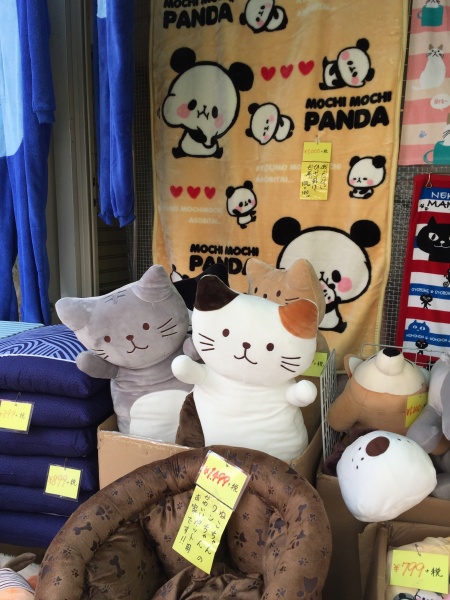 Second hand shop, selling Japanese dishes. Y100 per piece.
Rice Crackers Osenbe shop. You can choose your favorite. Three for Y1000.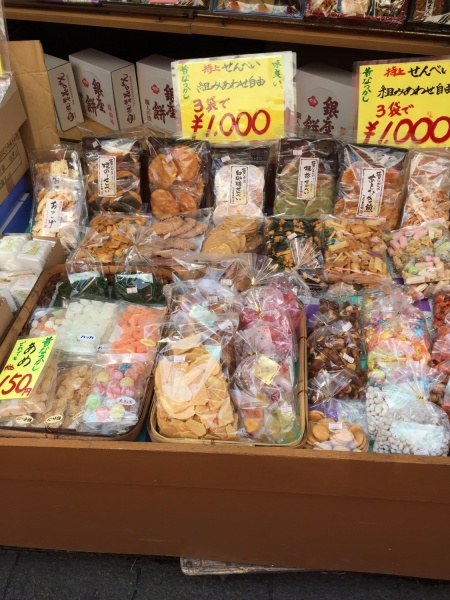 And get your favorite tea and a tea server?
Come and visit soon
6 Tibit: What is SHITAMACHI?
*SHITAMACHI 下町
Nostalgia and tradition. Shitamachi literally means the town below or lower town. It refers to the Eastern part of Tokyo.
During the Tokugawa Shogunate when Tokyo (old Edo) was formed to become the political and commercial center of Japan vs cultural Kyoto. People were divided into a rigid caste system, 士農工商, Samurai on the top, followed by farmers, craftsmen and merchants. (Untouchables exited below)
So, Shitamachi (vs Yamanote 山の手, mountain side or upper class area) vaguely referred to the East part of Tokyo where the lower caste, the craftsmen and merchants, lived. It was once a marshland near the sea, filled in so that they can settled down to support the lives of the samurai aristocrats and their families living in the West of Tokyo.
Now, Shitamachi culture is treasured as the rest of the city has lost the traditional and authentic Tokyo/Edo culture. People living there are still called Edokko, or real Tokyo people and are seen to be more honest, reliable and warm. They are seen as defenders of the old tradition and culture of old Tokyo.
Any questions or comments?
---
Read More Articles: Column
---
---
---
---
---
---
---
---
---
---