Nikujaga- boiled meat and vegetables
Easy to make and delicious Japanese home cooking

INGREDIENTS for 4 persons
Thinly sliced beef      150grams
Soy Sauce                    2 teaspoon
Sugar                            1 teaspoon
Carrot                           1/2
Potato                           3
Onion                           1/2
Oil                                 1Tablespoon
Soy Sauce                    2 Tablespoon
Sugar                            1 Tablespoon
Dashi soup                  2/3 Cup  (how to make dashi? refer to http://hiddenjapanguide.com/archives/1298
DIRECTIONS
1 Mix the sugar and soy sauce with the beef and leave for a few minutes.
2 Prepare the potatoes by cutting, placing them in water for a few minutes.
3 Prepare the onions and carrots.
4 In a pan/pot, put the oil and heat up.
5 Cook the potato, onion, carrots and beef (last).
6 Add the dashi, soy sauce and sugar.
7 Cover with "otoshibuta" (place a lid directly on the ingredients) and cook for 15-20 minutes on low heat.
8 Remove the "otoshibuta" and leave for 10 minutes to rest.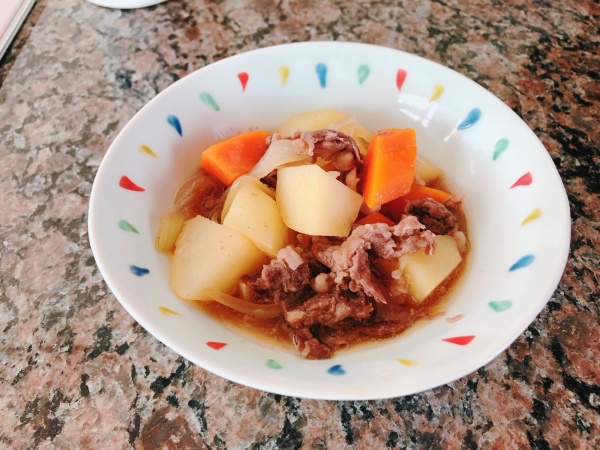 Any questions?
---
Read More Articles: Column
---
---
---
---
---
---
---
---
---
---