Ukiyo-e 浮世絵
Ota Memorial Museum of Art, UKIYOE museum in Omotesando/Harajuku area

1 UKIYO-E- what is it?
2 History of UKIYO-E
3 Making of UKIYO-E
3.1 Producer to Painter to Sculptor to Surishi
3.2 Joint effort needed
3.3 Impact of UKIYO-E to the West
4 Exhibition of UKIYO-E
5 Ota Memorial Museum of Art- enjoy UKIYO-E in the heart of Tokyo in Omotesando
1 What is UKIYOE?   Woodblock prints used for advertising Kabuki during the Edo period.
NHKで放送の「歴史秘話ヒストリア」にて、葛飾北斎と娘の応為(お栄)
を特集。9/15(金)午後8時~「世界が驚いた3つのグレートウエーブ 葛飾北斎」。9/22(金)午後8時~「おんなは赤で輝く!北斎の娘・お栄と名画のミステリー」。https://t.co/C5fTwd8LRZ pic.twitter.com/dokR4hBqMM

— 太田記念美術館 (@ukiyoeota) 2017年9月6日
2 History of Ukiyo-e
Started in late 17th Century Japan, it was a form of advertisement tool, mostly to sell the actors of Kabuki shows.  Fans of Kabuki bought the ukiyoe for about a price of a bowl of soba/udon (less than Y1000 yen.)   Kabuki was the main entertainment available for the masses in old Tokyo/Edo during this period of peace.  (Tokugawa Shogunate 1603-1868).
It started out around 1658, with a single colored (black and whilte) ukiyoe and then developed into red and black and finally to multi-colors.
3 Making of Ukiyo-e
It helps to understand how ukiyo-e is actually made.
3.1 Producer 版元 would ask the 2 Painter/artist 絵師 to draw the picture.  3 Sculptor 彫師will carve that picture onto the woodblock.  4 Finally, the Surishi 摺師 will color the woodblock and print the final product.
3.2 It is a joint effort of these four people, although we only pay attention to the artists like UTAMARO, SHARAKU, HOKUSAI, and HIROSHIGE.
3.3In the 19th Century France/Europe, lots of impressionist artists like Van Gough, Renoir, Monet and Manet were influenced by Japanese Ukiyo-e.  The first contact was interesting!  Ukiyo-e was used as wrappers for goods exported from Japan to Europe.  Japonism, as the movement, came to be known, was widespread.  Van Gough is famous for his 500 pieces of Ukiyo-e collections.   (For a good summary- http://www.visual-arts-cork.com/history-of-art/japonism.htm)
4 Exhibition of Ukiyo-e
Very timely exhibition coming up in The National Museum of Western Art in Ueno 国立西洋美術館 from Oct 21 2017-Jan 28th 2018.  Hokusai and Japonism.    http://www.nmwa.go.jp/en/exhibitions/2017hokusai.html
5 Ota Memorial Museum of Art-enjoy Ukiyo-e in the heart of Tokyo, Omotesando
Visit OTA MEMORIAL MUSEUM OF ART, hidden away in Omotesando/Harajuku.  With 14,000 pieces of Ukiyo-e collections, their thematic exhibition changes seasonally, so check the site before you go.  From Sept end to Octo end 2017, Katsushika Hokusai Thirty six Views of Mt. Fuji is on.

Entrance to the museum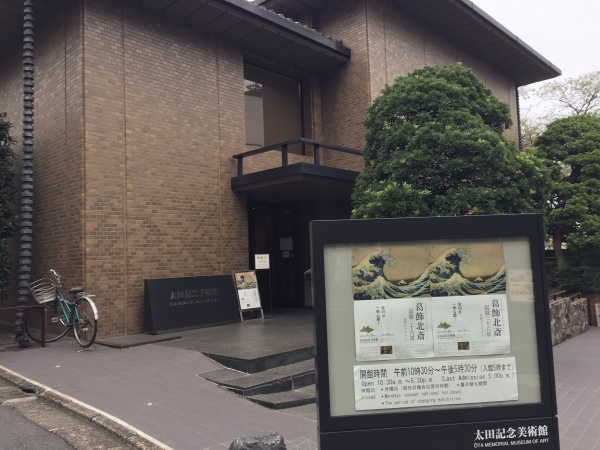 Current exhibition of Hokusai and his Thirty six views of Mt. Fuji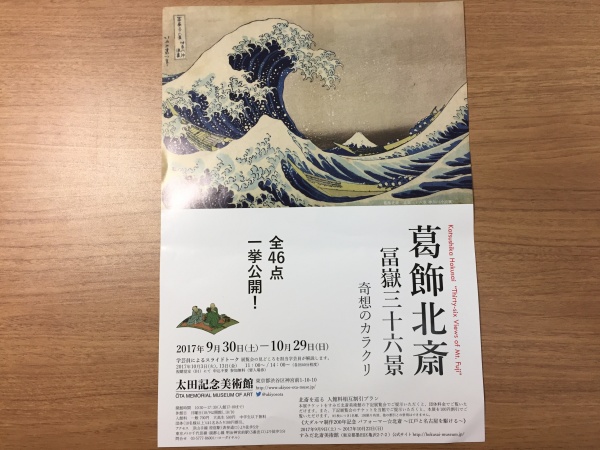 You can order your own ukiyo-e as well.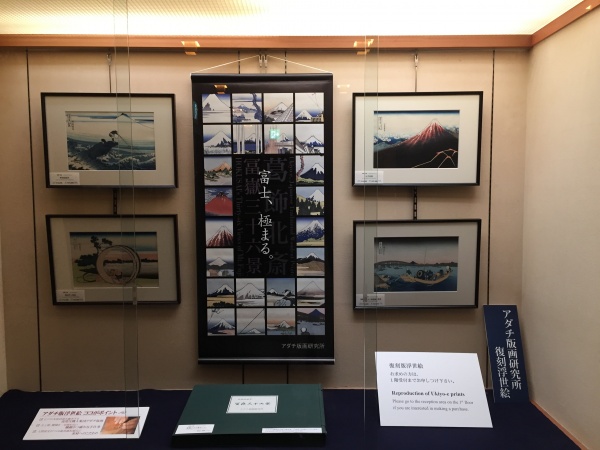 Small Tenugui (Japanese towels) shop in the Basement, with other associated gift.  Very nice store.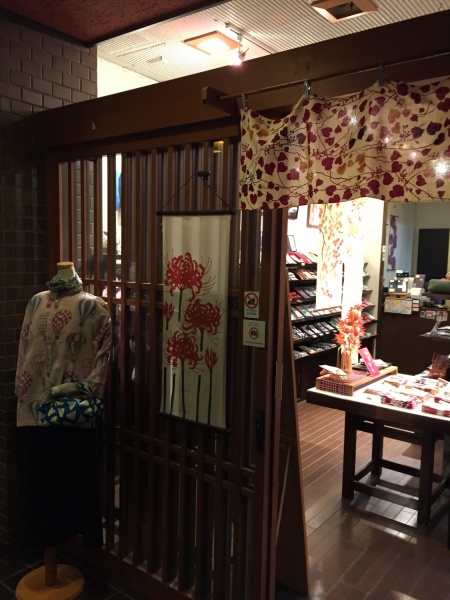 旧暦ですが、9月23日は葛飾北斎の誕生日。北斎が数え85歳の時に描いた大黒天の絵に「宝暦十庚辰年九月甲子ノ出生」という落款があることが根拠とされています。北斎の代表作「冨嶽三十六景」全46点を展示する展覧会は、原宿の太田記念美術館にて、来週9/30(土)より開催予定です。 pic.twitter.com/d62sNSn5pd

— 太田記念美術館 (@ukiyoeota) 2017年9月23日

No pictures allowed, but you can check out their twitter account with lots of pictures!
Enjoy!
Any questions or comments?
---
Read More Articles: Column
---
---
---
---
---
---
---
---
---
---