Japanese soup- kenchin soupけんちん汁
Use the DASHI to make delicious and healthy Japanese soup

You know how to make DASHIだし (refer to the article DASHI http://hiddenjapanguide.com/archives/1298
So, now let`s use this and make some soup.   Kenchin soup けんちん汁 uses TOFU  as its base ingredient.  Aside from the TOFU, you can experiment and put in many different kinds of vegetables and meat.
Here is a recipe that you can refer to, but feel free to try different ingredients!
4 persons
100g Japanese radish
40g carrots
40g gobo/roots
100g potato
1/3 konryaku
150g or half TOFU/momen
80g chicken
2-3 Cups DASHI
2Tablespoon Sake
1 Tablespoon soy sauce
salt, mio
Here is what I put in this time- chicken, TOFU (momen-the hard type), Japanese radish, carrots, Japanese gobo root, sweet potato, and Japanese konryaku.
Now, you can see how healthy this soup is!
It is easy once you have the ingredients chopped up and the DASHI ready.
1  Chop up the ingredients and drain the water from the TOFU, by using the paper towel.  It is better to use your fingers to take apart small pieces of TOFU.
2  Place 1 Tablespoon of oil into your pot.  Put all the ingredients except for the chicken and the tofu.  Once the ingredients are coated, then put in the tofu and then the chicken last.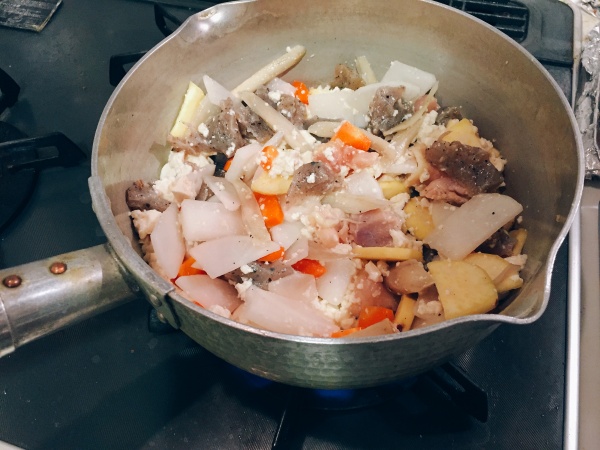 3  Now, put the DASHI soup (2-3 Cups).  And boil gently, until everything is cooked and soft.

4  1 Tablespoon of soy sauce, 2 Tablespoon of sake, and 1 teaspoon of salt.  Check the taste and add more if necessary.  I always add 1-2 teaspoon of miso at the end.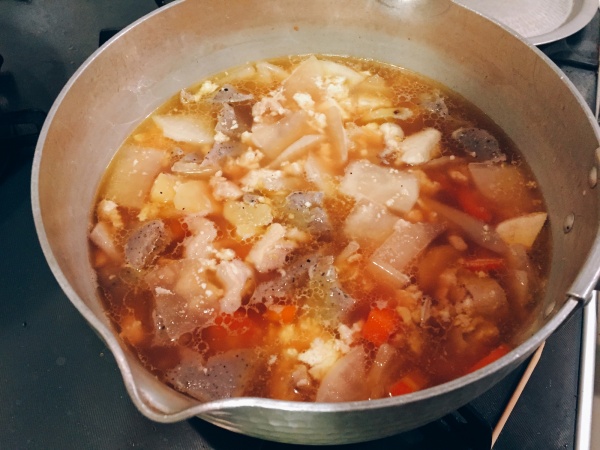 ENJOY!
Any questions or comments?
---
Read More Articles: Column
---
---
---
---
---
---
---
---
---
---